Coming Up.........

Carlos Tabernaberri Five Day Clinic 28th August to 2nd September 2018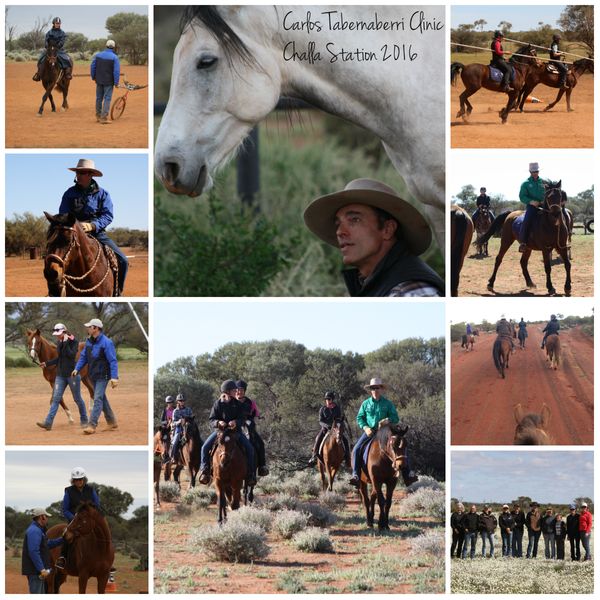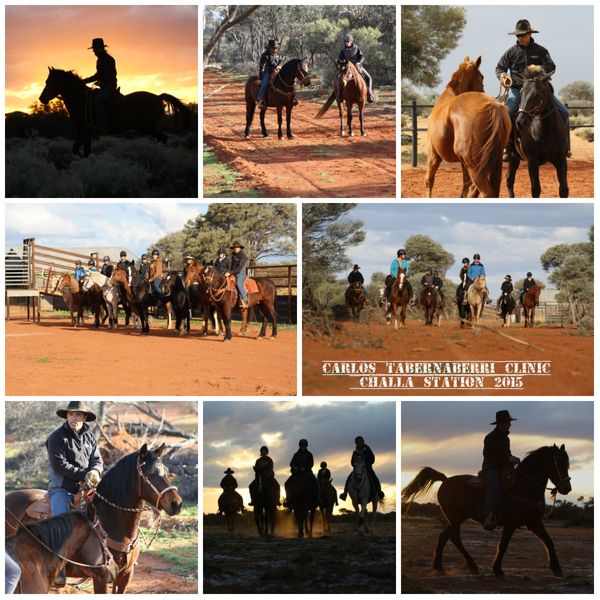 The Challa Mill Run 2015
Over the Foundation Day long weekend, riders from all over WA competed in the fifth Challa Station Mill Run Endurance Ride, riding distances between 20km and 160km along the windmill tracks and past the watering points. The Mill Run has become a favourite on the West Australian Endurance Riders' Association calendar and people travelled from as far away as Margaret River to compete in the unique event.
Checking windmills is a vital part of station life. These days the mill runs are done in a vehicle, but in the old days they were done on horseback.  The Challa Mill Run celebrates the efforts of the pioneers who opened up the station country and brought water, and life, to this dry land.
Challa Station is situated approx. 600km north of Perth and has been in the Dowden family since 1888. Good rains in March and April meant that the country looked magnificent and the course was in top shape for the event. The long, uncluttered roads allowed riders to maintain a steady speed and the flat ground meant relatively easy going for the horses. A completion rate of over 90% was testament to the great course and well managed horses.
There were eleven riders competing in the two day, 260km ride and all but one completed. Frances Overheu, riding Poseidon Moon, won the Middleweight division of the 160km ride and averaged just under 14km an hour for the course. She also won the "Best Conditioned Horse" prize in her division. Linda Dix rode her mare Gungurri Xena to victory in the lightweight 2 day 160km ride and also took out the Best Conditioned prize, whilst Emma Swarbrick won the Heavyweight 160km division and Bruce Hullett won the heavyweight Best Conditioned 160km.
In the 80km section, Glen Dix won on Nizhoni Sioux, taking out Best Conditioned as well. This was a particularly sweet victory for Glen as two years ago, Sioux tore both a tendon and ligament in her fore leg and was given a slim chance of having a career under saddle, let alone and endurance career!  Ady McIntosh won the Middleweight division and Best Conditioned on her gelding, Whitby Park Superstition, and this was his first 80km ride.
A number of riders participated in the social 40km and 20km rides over the two days and thoroughly enjoyed themselves. The combination of camping out under the stars, great friendship and some awesome riding meant that the riders went home with an appreciation of the beauty of the outback and the people who opened up this country.
Carlos Tabernaberri Clinic 2014
                          
Carlos Tabernaberri was mounted on Shotgun, a stunning paint gelding owned by Debi Craven. Debi was one of ten people who had travelled 600km to the five day clinic at Challa Station and she, like the rest, wouldn't be disappointed. "Do you trust your horse?" Carlos asked Deb. "I don't know, maybe" she replied. "Well I do," said Carlos. And to demonstrate his trust for this young horse who had only ridden for a few minutes, he stood up on the saddle, reins hanging loose. He was not in a round yard or arena, but on a wide open flat where Shotgun could have galloped off into the distance if he wanted to. But he didn't; Shotgun stood quietly with Deb watching, open mouthed, in awe of the horseman's skills.
Carlos clearly understands how horses think and how they behave. He passes on his knowledge to devoted students all around the world. We were lucky to have him in Western Australia yet again, just prior to his trip the Chicago. He travelled up to Challa Station, a Morgan Horse stud and pastoral property near Mt Magnet again in August for a five day intensive horsemanship clinic. This is the second clinic he has held at Challa and both have been booked out well in advance, with most people knowing about the clinics by word of mouth.
Building a better relationship with your horse is what Carlos helps his students do. He is famous worldwide for refusing to use any of whip, bit or spur on a horse. He encourages the type of unity between a horse and rider that can only develop without force.
Carlos' clinics begin with groundwork and Carlos has begun to introduce some classical dressage movements into his clinics. He showed us how he would teach piaffe without the use of any force, just by gently encouraging the horse to respond to his well placed cues. Horses responded by lowering their quarters and bringing their hind legs under them, movements that could eventually be built into a correct, classical piaffe. Carlos also uses lateral work on the ground to soften the horse and to prepare it for further work under saddle.
Most of the participants at Carlos' clinics choose to ride bitless. Those who don't are usually ready to try in their own time and gradually bridles are swapped for halters or bitless bridles during the clinic. However, it is becoming a bit of a tradition at the Challa clinic to take bitless one step further and learn to ride in a cordeo. A cordeo is a simple rope around the horses' neck. The bridle or halter is removed and the rider controls the horse largely using legs and seat, with the cordeo for assistance if required. Trust and training are the key ingredients for success. Trust for both the riders and the horses and well established training to bring them both together as a harmonious team.
Few of the riders really believed that they could control their horse with the Cordeo. Carlos was happy to ride the horse first, ensuring that the horse could be turned, stopped and backed up safely with no reins. He would then invite the horse's owner to try, but would walk alongside explaining the technique and encouraging them until they were ready to go solo. Most riders were a little hesitant but elated when they achieved success with Carlos' encouragement and guidance.
Wanting to take full advantage of being on such a huge property, Carlos organised a few trail rides. Mounted upon the trusty Morgan gelding, Lenny, Carlos lead the riders on the trail. Trail riding can expose a number of problems that don't emerge in an arena situation and Carlos was right there alongside the problematic horses guiding and encouraging the riders. Occasionally he would dismount and walk alongside a particularly fractious horse, reassuring the rider and offering assistance where necessary. He then lead the riders back to the arena and focused on the problem areas, familiarizing horses and riders with challenging situations and offering ways to ease the stress for both. Then it was back out on the trail a day or two later to practice new the skills.
One of the marvelous things about having the clinic at a station was the fact that everybody stayed together for the whole week. In the evenings everybody, including Carlos, would eat together and Carlos was very generous with his time, patiently answering the many questions that people had. Even after a whole five days of constant equine discussions he didn't tire of talking about horses. Horses are his life and he is dedicated to showing the world that there is a kinder way. He does this, he says, for the sake of the horse.
Carlos will return to Challa Station in 2014 for another five day clinic. You can read more about Carlos at www.whisperingacres.com.au