Here is a collection of articles I have written for the Morgan Messenger Magazine, the official publication of the Morgan Horse Association of Australia.
The end of an era - the challa morgans breeding program ends
As our pastoral enterprise expands, we are finding ourselves expanding in multiple directions and it has become clear that the Challa Morgan breeding program is taking up an enormous amount of time and energy. It is time for us to step away from breeding beautiful Morgan horses. The Morgans will remain an integral part of our operation as working horses, helping us to manage our cattle quietly and effectively. This blog will remain as part of the history of Challa Station and serve to help us remember the beautiful horses we have bred. 
June 2021
Red Bluff Tequila arrived at Challa Station a few weeks ago. We had purchased this beautiful mare from Gillian Wooldridge back in October and decided that rather than bring her straight home, we would make the most of the opportunity to try for a foal by Quietude Cezanne, Wildu Mandaawi's young, imported stallion. Once she was confirmed in foal, we thought it best to leave her there until the weather started to cool off, and we brought her over in April.
Tequila spent almost a week in the yards when she arrived. If we let a horse out too early and it doesn't know where home is, it can get lost and start wandering back to the last place it called home. While Tequila was in the yards, I started taking her out for walks leading off Lenny, just so she could get to know the area. After a couple of days, I decided I could safely ride her to get her out of the yards and show her around. She's a lovely mare to ride, and although we purchased her primarily for breeding, it's definitely a bonus to be able to take her out for a quiet ride from time to time.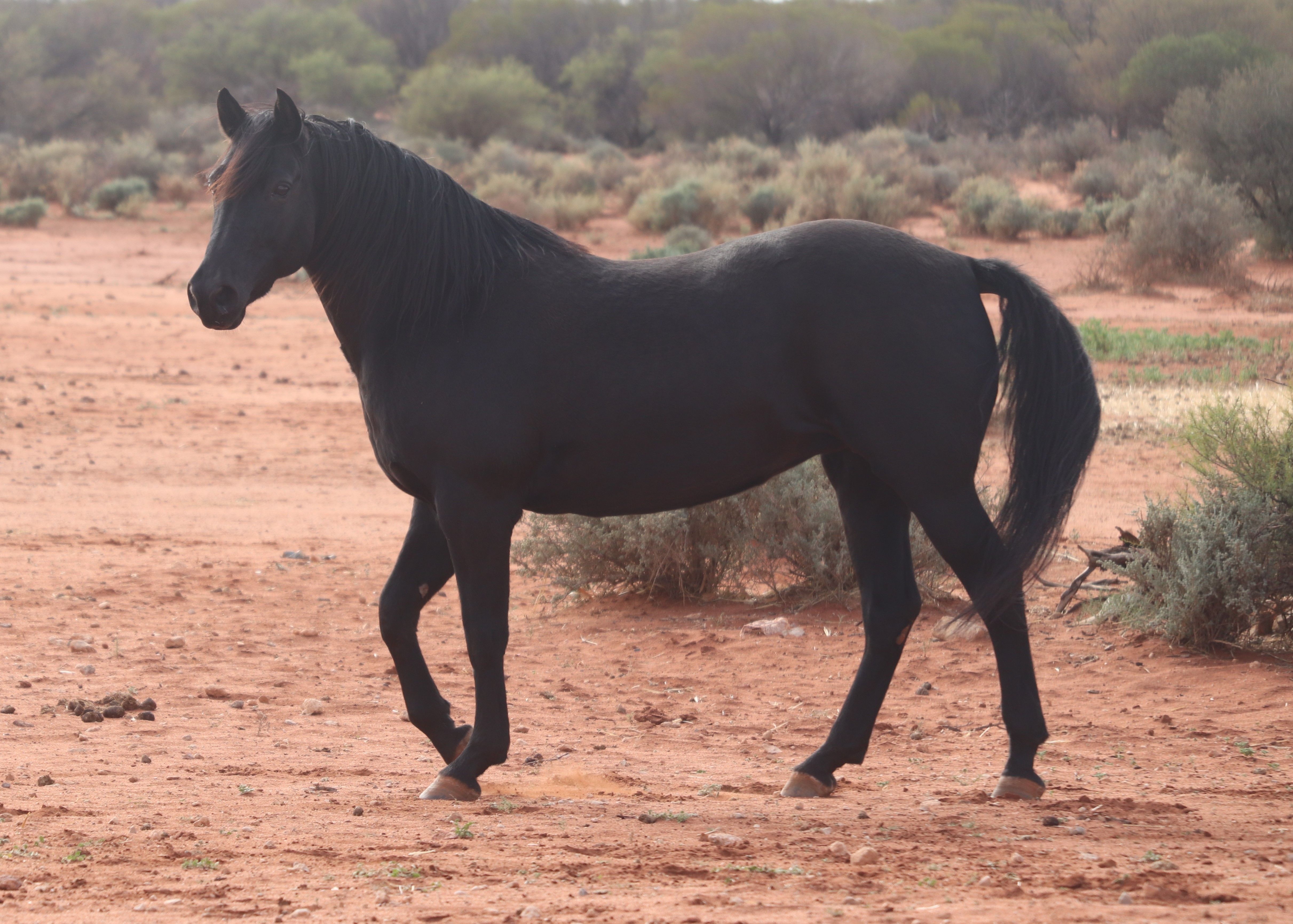 Red Bluff Tequila at Challa
Cattle mustering has taken up the best part of the last month, and we are all pretty exhausted. We don't use the horses for mustering, but we use them for training our heifers and tailing them out. Horses, humans and cattle benefit from this enormously. This time I was lucky enough to have three friends come across with their horses. These friends are students of Jeff Sanders, a Californian vaquero, who essentially practices dressage-based, low stress stock handling from horseback. So while we work the cattle, we are asking our horses for very precise body positions and movements because their energy can affect the cattle so profoundly. To avoid putting undue pressure on the cattle, we might be asking the horse for a haunches-in movement, or a shoulder-in to put a little more pressure on them. We use counter shoulder-in if we want to quietly move past the cattle with little disturbance. Sometimes we see if we can ride past a sleeping cow without causing her to stand up.
We spend a couple of days in the yards with the cattle then a few more days trying to perfect the movements when we let cattle out of the yards, shepherd them around for a few hours, and again when we re-yard them.
One of the actions we want to get right is the letting out and putting back into the yards. This is where things can go very smoothly or 'turn to custard' quite quickly. On the first day, there was a rush of cattle and predictable responses from very excited new horses. Luckily Ashley was there in a buggy to stop the lead cattle from crossing the creek.  By the final day, we had it nailed; as a rider dismounts and opens the gate, three mounted horses stand sideways to the cattle in the gate until our fourth rider remounts and moves to the back of the yard. Then the three horses in front either lead the cattle, form a wall to block them, or ride towards the cattle, depending on the energy of the mob. The rider at the back makes sure the cattle all walk out of the yards together. On the first day, there is often a lot of speed and energy as the enthusiastic heifers exit the yards, but by the final day everything is usually completely controlled, even beautiful.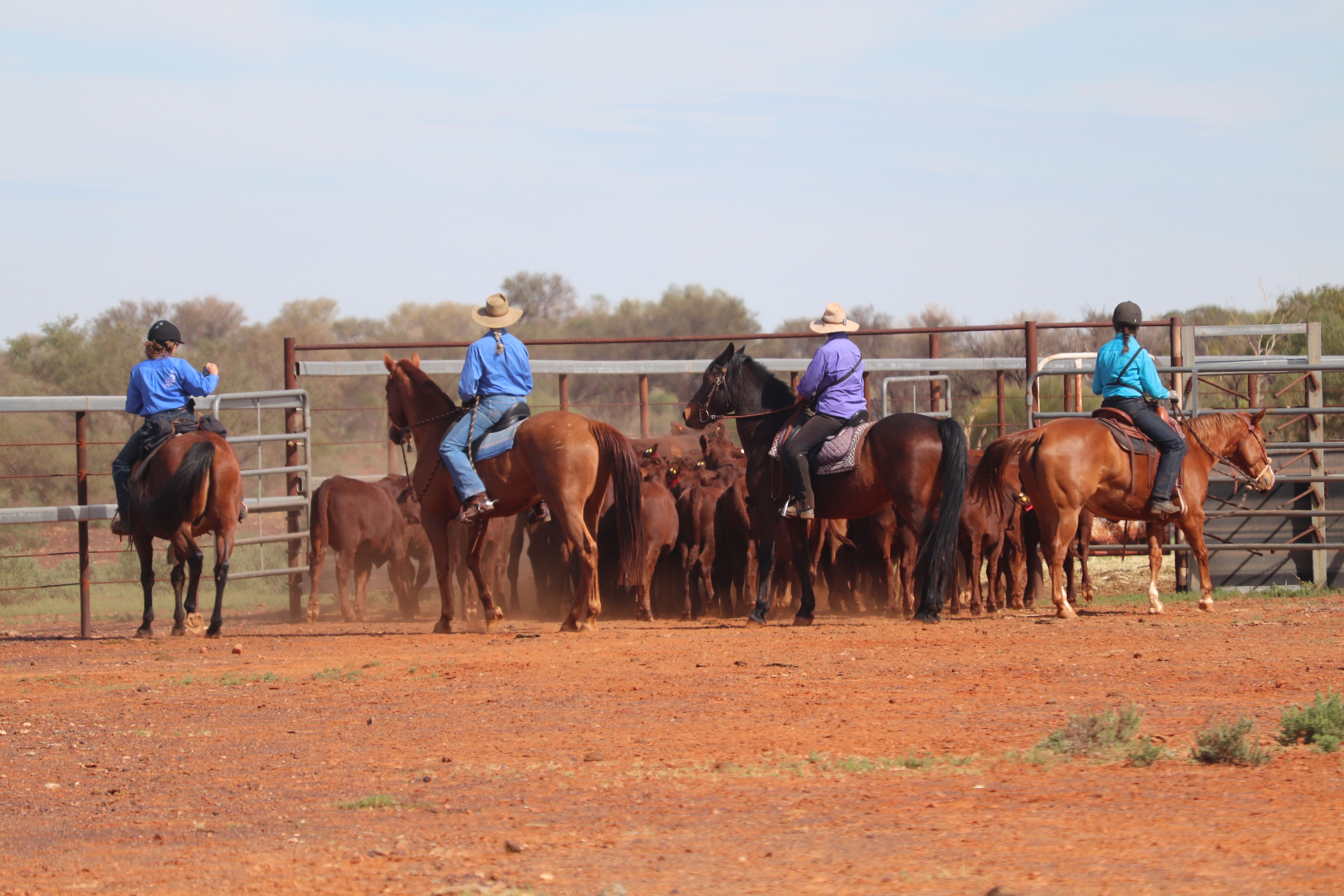 The wall of horses re-yards the cattle
Lenny is the most experienced horse, but he is 18 this year, so I am bringing Cartier along slowly so that he can eventually take his place. We need to have at least one really reliable horse in place so that if the new horses find it all a bit overwhelming, they can step away from the action until things settle down. Next year I am hoping that one of the visiting horses can transition into the 'old reliable' spot so Lenny isn't needed as much.
The other terribly exciting piece of news for us is that we have purchased a block of land closer to Perth to fatten cattle on. We are still living full time at the station, but now we have a property in a reliable rainfall area where we can send cattle. We are taking cattle down next week and Lenny is coming along to help them settle in. From time to time, I can now take a young horse to our new block and give them more experience on the cattle. Perhaps some of the older horses might retire there too.
April 2021
Challa Station Willow left us last month to join her new owner in NSW. Her sale was a bit of a surprise to all, and within half an hour of me posting her ad, Elaine Singleton had contacted me to buy her. Willow travelled over to NSW and settled in very well and It seems as though they are perfect for each other. I hadn't really planned on selling Willow, but with Mountain Creek Cartier as my new riding gelding, I decided I wouldn't have time for Willow as well. She is such a perfect horse and I knew somebody out there would be really grateful to have her. Elaine had been searching for a Morgan for a while and their partnership feels like it was meant to be.
Because I had to take Willow to Perth to meet the truck, I decided to load Lenny the Legend up as well and take him to a ranch sorting day. We had all sorts of fun, and Lenny was pretty handy - as I would expect of a seasoned working horse. We didn't always get the ranch sort right, but we had a great time trying. Its lovely to take Lenny out, he is the epitome of versatile … and has the buckle to prove it. But he is getting older and I now have the golden gelding who needs to be introduced to all of this. Cartier's hormones are starting to settle down and it won't be long before he can start going out on these big adventures with Lenny.
Being so far from any showring, we are huge supporters of the ANMS Photo Show and have entered every year since it began. You would think, therefore, that we would realise that waiting until the last minute to take photos is not the best strategy. But no, we waited until the last minute then took the photos again this year. As Ashley was so busy, I tried really hard to get some foal photos by myself. I took out balls, sheets, tarpaulins and huge bulka bags to try to get the foals to stand up for a photo. I would carefully position the attention getting tool so that the sun was at the correct angle, then wait for the foals to pose for their photos. I managed to get dozens of photos of the foals looking goofy, with shadows where they shouldn't be and feet all over the place. And noses, loads of little inquisitive noses coming up to me. It took me three days and a bull buggy in the paddock playing Slim Dusty to get a nice photo of Sunshine. I couldn't get Rocksolid to stand properly, so in the end I managed to persuade Ashley to hold him for me. Once on the lead rope, Rocksolid posed like a supermodel and the photo shoot was over in moments.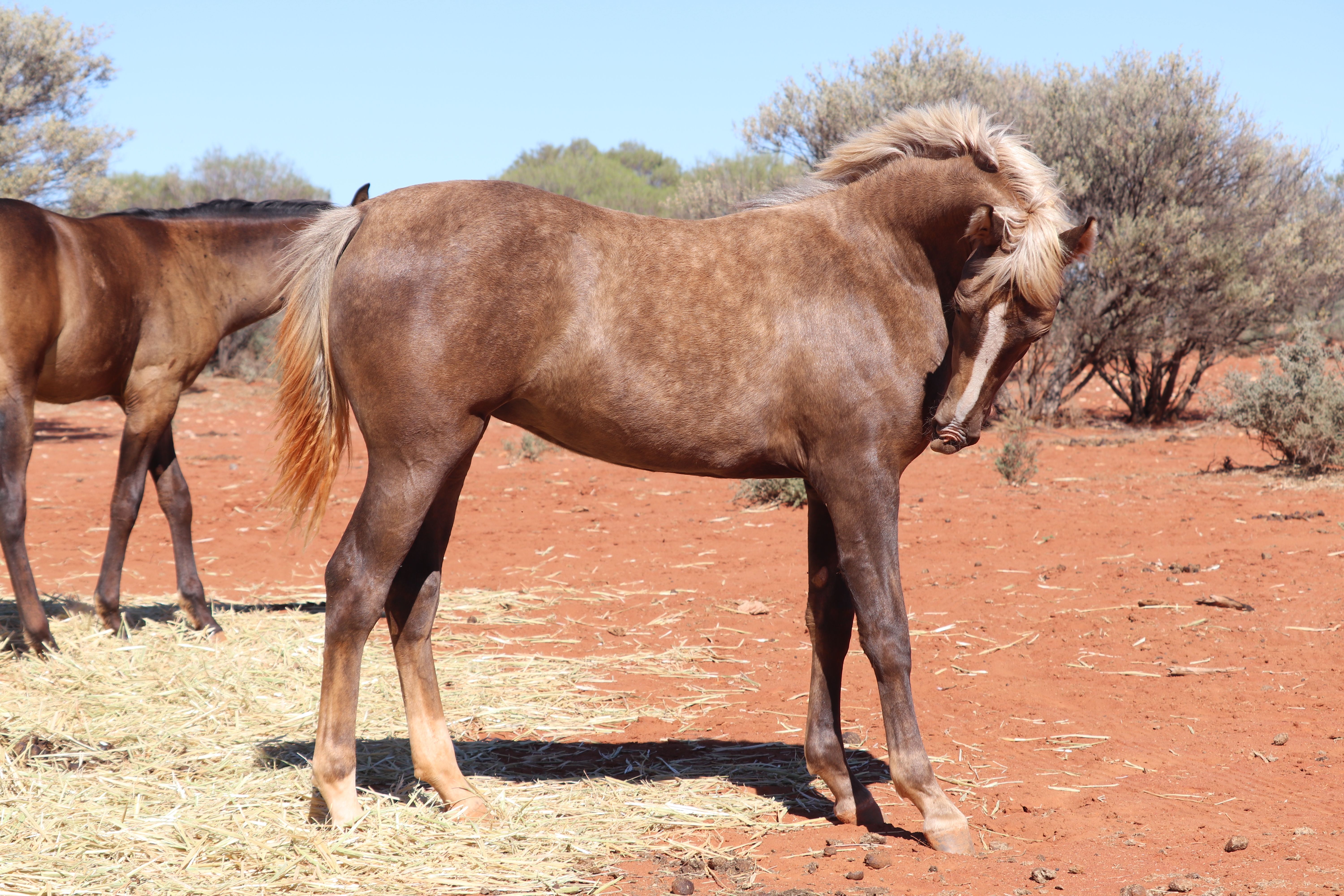 Trying to get a photo of Sunshine
Rocksolid really impresses me. We had a break in the hot weather for a couple of weeks so I loaded him and his mum on the float for a trip to the vet. He travelled like a seasoned champion for four hours to Geraldton to be gelded. The operation went without a hitch and in no time, he was back on his feet and drinking from his mum. They overnighted at the agistment center and Rocksolid was so well behaved. He has always been extremely trainable and is one of those Morgans with a very low flight response and a very friendly nature. He's going to make a rock-solid riding horse in the future.
We are super excited about the weather cooling down so we can enjoy some more riding time. The horses winter coats are coming in and the days are getting shorter. Soon our new mare will arrive and there will be more wonderful Morgan news to share.
Feb 2021
Mountain Creek Cartier is our beautifully bred, glamorous, handsome young stallion. He has sired four sensational Challa Station foals: buckskin Spinifex, chestnut Tarantella, palomino Sunshine and buckskin Rocksolid. However, over recent times it has become clear that Cartier is not ideally suited to running on a broadacre property such as ours. The risks that arise on our property could be mitigated by keeping Cartier alone and in a smaller paddock for the rest if his life, but that's not the life we want for this wonderful horse. We have carefully considered his future and have decided to geld him and give us all an easier life.
Cartier is being collected and frozen prior to being gelded so we can continue his bloodlines. Everything about him warrants him a worthy sire and thanks to modern science we are able to have the best of both worlds. He has shown enormous promise under saddle and we are looking forward to fully utilising him as a working gelding both on and off the property.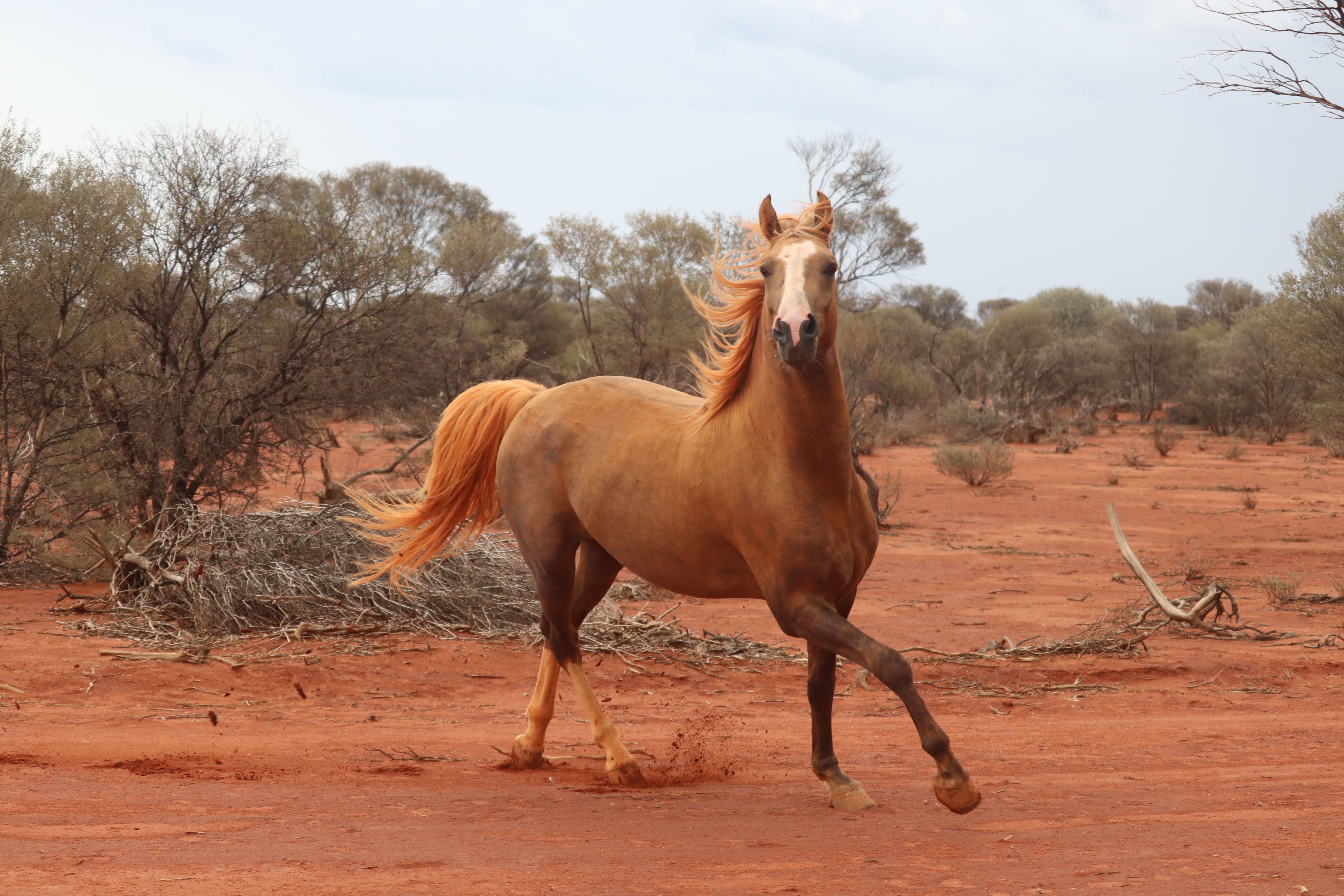 Mountain Creek Cartier
December 2020
Mountain Creek Cartier's first foal was a handsome buckskin colt that we named Challa Station Spinifex. From the day he was born, Spinner showed us he was special. Sensitive, intelligent and handsome, he had the makings of a superb horse and I had quite often thought I should keep him as my next riding horse. But when his sire returned from the breakers wowing me with his potential, I knew my next riding horse was already here. With a degree of reluctance I put Spinifex on the market and he was quickly snapped up by a lovely young horsewoman called Paige. The will make a perfect partnership, Paige adores him and Spin responds very well to her and I can live vicariously through them and enjoy their journey almost as much.
That's the tough thing about breeding horses – having to sell them. I love breeding horses for the careful planning, selection of mares, foaling down, those first days and weeks of getting to know the foal. Seeing its potential and knowing that you have gifted the world with another carefully considered horse is immensely fulfilling. Training them, getting it perfect, giving them those all important foundation skills is a real art that the artist strives to perfect with every foal. That is what gives me the greatest satisfaction. I don't breed horses because I like selling them. But when they go off to perfect homes then it eases the regret just a little.
Our latest foals, Sunshine and Rocksolid, are absolutely delightful. Sunshine, the princess of pretty, always sidles over to me for a chat in the morning. Rocksolid galloomphs over in a goofy sort of way, wishing I would play with him, but knowing I'm far too grumpy for his rough kind of play. They have both had some basic training and now spend most of their time playing, sleeping and eating. This is when living in a 10 000 acre natural bush paddock benefits them the most. There's bushes and branches, rabbit holes and lake crossings, sandhills, samphire and rocks, and loads of desert to explore. They get used to encountering kangaroos, emus and cattle. They grow up just like a wild horse should. We think this gives them such a good start in life.
We have purchased the very beautiful Red Bluff Tequila and she will be joining the Challa herd after summer. Her bloodlines and conformation are an exciting addition to our herd and we hope that she will produce some quality foals for us, as well as enjoy some gentle riding from time to time. Tequila may miss the green grass of Victoria for a while but no doubt will come to find that the variety of food available in the western desert is just as satisfying, and not quite as fattening. Hopefully she will find her new home relaxing and her new paddock mates very friendly.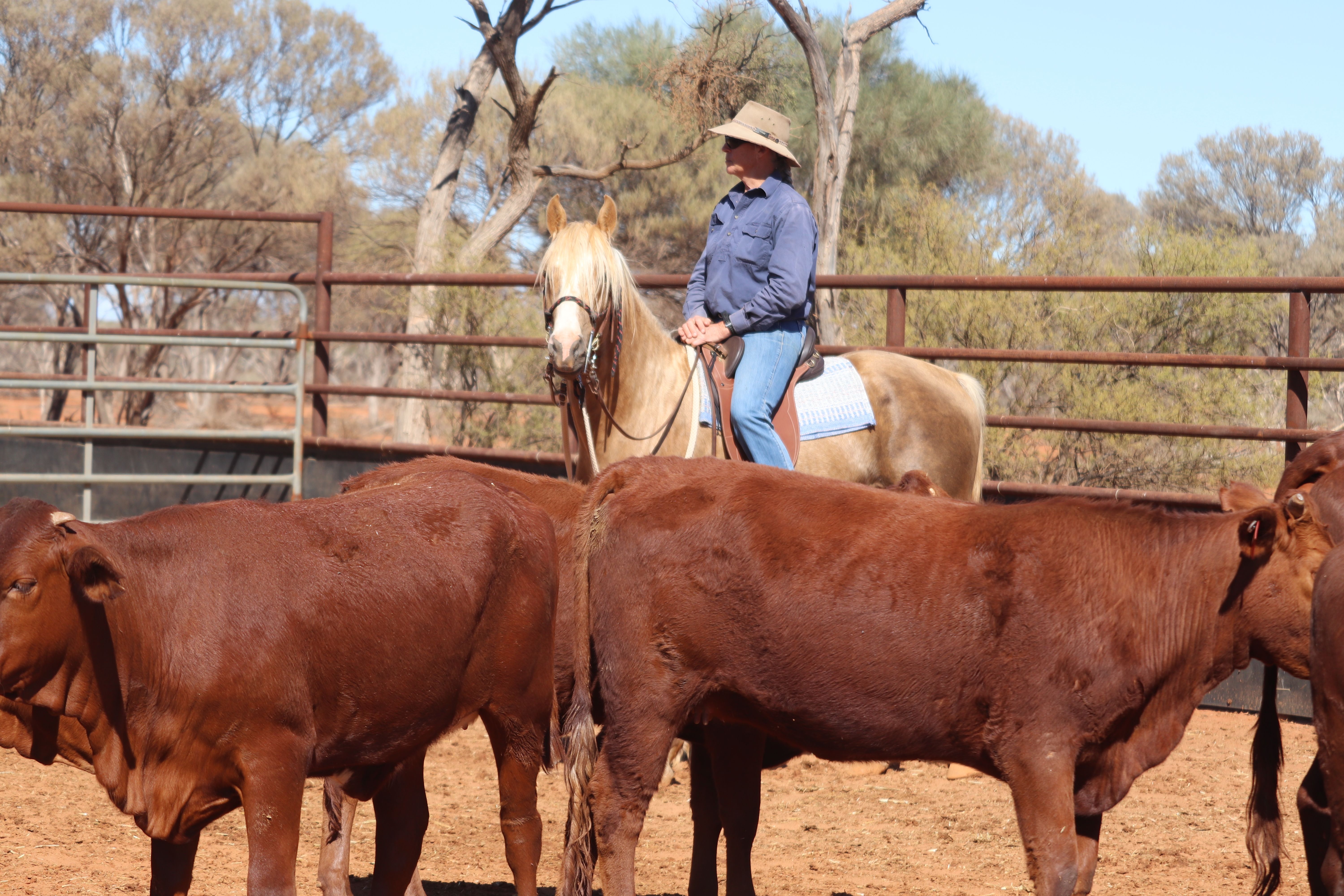 October 2020
What a cracking young stallion Mountain Creek Cartier is turning out to be! Both of his 2020 foals are well conformed and healthy with a touch of colour, and he is now on the payroll as a working horse. It's been incredibly busy here at Challa Station with mustering in full swing and foals being born. It wasn't supposed to happen, but the COVID pandemic forced us to postpone out muster until September, which is also foaling time.
We usually muster in April and foal down after August and that works quite nicely for me. But this year I was working long days out in the dust on the minimal sleep I usually survive on while the mares are foaling. Once I knew we were mustering in September, I put out the call for help with my mares and foals. Very luckily for me Odette, one of my endurance friends and an ex-vet, was able to come across from Geraldton for a few days. I maintained twice daily udder watch, and once a foal was imminent, I called Odette. Odette came over just before Greenstone Dandaloo foaled her exceptionally pretty palomino filly that we call Challa Station Sunshine. Odette spent time with the filly during the day while I was out with the cattle. I'd return exhausted in the evening and little Sunshine would be happy to come up for a scratch because Odette had spent time befriending her.
Sunshine is a confident, extra pretty filly with a blaze and two white socks like her sire, Cartier. Every time we see her she brightens our day. She is lovely and friendly, thanks to Odette, and has that real Morgan look. Just after we finished mustering, Challa Station Captivate, (Molly) gave birth to her first foal, a big leggy buckskin colt that we have called Rocksolid. In no time, Rocksolid realised that humans are awesome, and I would walk into his paddock and he would run up on those wobbly long legs to say hello. He is a really nice colt and he loves testing those long legs of his. Both foals are absolutely beautiful and I can't wait to see how they grow up.
Even though we have finished mustering, that's not the end of the cattle work. Once all the sale cattle go, we are left with the weanling heifers, which we put through two weeks of training before settling them into their new paddock. This is where the working horses come in to the program. We quietly work the heifers through the yards before tailing them out for five days in their new home. That just means that we put them in a yard overnight, take them out to graze for a few hours in the day then put them back into the yards and do it all again the next day. Lenny and Willow usually do the cattle work. Lenny likes tailing out because once the cattle are settled and grazing, he gets to graze too. It's usually a pretty low key affair- Lenny eats and a cow starts wandering off so he brings it back into the herd then continues eating. It's easy work for Lenny and it is a wonderful opportunity for a young horse to get some education in a low stress working environment.
Young stallion, Cartier, has been away at his trainer Margi's property getting some off-station experience, and she brought him back for tailing out. It's the perfect opportunity to get Cartier working, keep him engaged, give him a job, and continue his education. Cartier worked the cattle in the yards on one day, came with us to the tailing yards the next day and was put on the cattle very shortly after. The mob of cattle had been very polite walking out of the yards and so we decided to put Cartier out in front with Lenny to steady the lead as they came out of the yards. This time, instead of politely walking out, the cattle decided to run. Let's just take stock here; a green broke stallion, first real time on cattle and a hundred heifers are running towards him. This was real meltdown potential. Instead of going after the cattle, Lenny and I stayed close to Margi and Cartier to help him through what could have been a disastrous situation. Cartier didn't seem to mind at all that cows and heifers were spilling past him. He stayed steady and just walked as the ocean of running bovines covered him in dust. Then he came with Lenny and we steadied the cattle and boldly got on with the job. The way this horse coped was in part, due to his nature, but also due to the quality of training he has received while away with Margi Weir. Good job, you two!
Cartier's iridescent golden coat gleamed in the sun as he walked busily around the cattle. His energy level was significantly higher than Lenny's and at one stage I asked Margi, "does he realise he's here for a long time, not a good time?" After a couple of hours he started to settle and eat some grass but as soon as there was action, he was on the job. He gave Lenny a much easier day as we let the horse with all the energy do the work. It's not hard riding, all he has to do is walk and occasionally trot to bring cows back that are starting to wander away. He has to watch where he places his feet because the ground is quite uneven and stony in places, so he has to concentrate and do what Margi says and not care what the cattle or Lenny are up to. He has to learn to stand still and quietly watch the cattle, a skill that he is still developing, but for a young horse on the job for the first time, he was exceptional.
Cartier's second day of tailing out began really well. It was the final day for the cattle, and our job was simply to wander them a couple of kilometres up to the dam, hold them for a while then let them go. Cartier was much more relaxed, happy to stand and watch the cattle who behaved like angelic cherubs, grazing along towards the dam. We could see a few fresh cattle out near the dam so Margi took Cartier off to move them away because they could stir our mob up if they came too close. Once we arrived at the dam, the heifers realised they were finally free. They were so happy they started running around the wall of the dam, up and down the little hill of dirt and cavorting with the unbridled joy of freedom. Margi tried to keep Cartier away from the unexpected action, and she did a great job of helping him keep his cool in what was a situation that even a seasoned horse like Lenny found a bit confronting. The good training she had invested into him paid off in spades in this moment. Cartier maintained his composure under this extremely challenging situation. Once the cattle settled, Margi and I rode back to the yards, loaded them in the float and drove home along the dusty roads.
Cattlework is finished for the season and Cartier will have a break from riding and head back to the paddock for his stud duties. He will cover two mares for me at Challa and he will be collected in a couple of months so that his semen is available to outside mares.
August 2020
I don't need to explain to this audience how it almost feels like cheating when you train a Morgan, especially when you decide to teach them liberty.
As we know, there is no other breed of horse as personable as a Morgan and they love to be with their people. They understand the human-horse connection better than most other breeds, and this makes them such a pleasure to work with. This connection was really clear during the Holy Toledo liberty clinic at Challa Station in June.
We were extremely lucky to be able to host the clinic during this COVID crisis. A bunch of really nice women came together with their beautiful horses to this extra special venue to learn how to teach their horses liberty. One person, Jodie, arrived without a horse but with the intention of getting to know Challa Station Walkabout (Watching Royalty x Challa Station Willow) and to consider him as her prospective new horse. As Walkabout is only eighteen months old, I told Jodie that she could use his mother, Willow, as her second horse because a three-day clinic would be too much for a baby. Well, didn't I underestimate Walkabout! Not only did he complete the entire clinic, but he was also tagged as the teacher's pet. He loved joining in the activities at the clinic, he dealt with the other horses very well, and I think he had a huge advantage because he was a clean slate. He had nothing to unlearn, no funny old habits to overcome, no preconceptions or problems, just a lovely clean brain full of intelligence and an eagerness to learn. He and Jodie formed a close bond and of course, she took him home at the end of the clinic. I am so pleased with this partnership of horse and human and it was lovely to have the opportunity to watch them develop a really strong partnership over the three days of the clinic.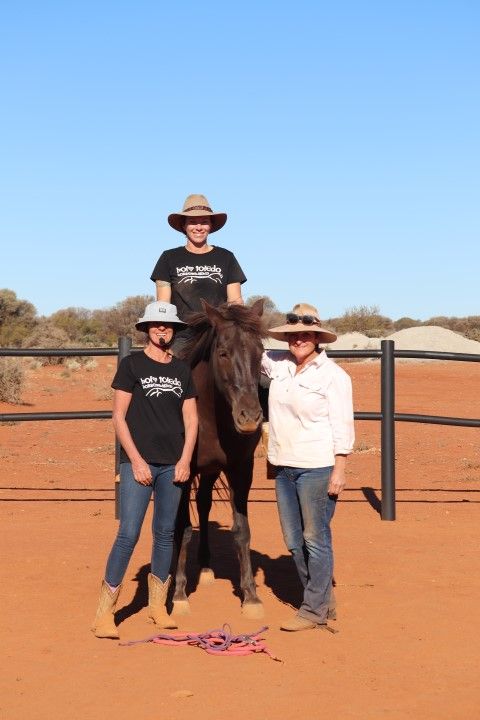 Willow at the Holy Toledo clinic
Since the liberty clinic, I have been practising regularly and finding a new joy in groundwork. I have always been an "in the saddle" horse person, doing a lot of my work from the top, but liberty has given me the chance to work from the ground in a totally different way. I love working with Lenny (Tandarra Millennium) and Willow from the ground. Lenny locks onto me like a heat-seeking missile during his liberty sessions, and I can literally feel his power in my heart. Willow is a little gentler but equally as wonderful. Now I look at my weanlings as potential liberty horses and I have already started the very basics of liberty with youngsters Challa Station Tarantella and Spinifex. I keep looking around at the other horses thinking I can do liberty with them too – the broodmares once they are free of their maternal responsibilities, and stallion Mountain Creek Cartier are all firmly in my sights.
Tarantella's new owner, Amy, came to visit for a week to meet her new filly. Tarantella is still a foal and hadn't been weaned when Amy visited, so we used her half-sister, Willow, to go for rides. Willow and Tarantella have very similar natures; soft, gentle, friendly and calm, so I figured Willow would give Amy a glimpse into what her filly might be like in the future. Beautiful Willow is so versatile that she could be a riding horse one day, liberty the next, then take Amy for her first ride in a cart. She is so trustworthy that if somebody wants to ride a horse they ride Willow. Only a couple of weeks before, Willow took 80-year-old Jann for a group trail ride to a nearby windmill. Jann is Jodie's mum and had come to the liberty clinic. She wanted to go for a ride, and what better choice for her than Willow. Anyway, Amy loved Willow and is absolutely delighted with Tarantella. The plan is that Tarantella will stay here at Challa after she is weaned until she is ready to be started under saddle, and I am looking forward to being part of their journey in the future.
In other news, Mountain Creek Cartier has gone back to his trainer for a few weeks in preparation for going to the vet to be collected. His first foals, Spinifex and Tarantella have been weaned, and he has two more Challa foals due this year, one out of Greenstone Dandaloo and the other out of Challa Station Captivate. This breeding season year marks the tenth anniversary of the first Morgan born at Challa Station (Willow), and we are confident that we are moving forward with a solid breeding and training program that produces really top quality Morgans.